THE BASICS ON VERMONT
Whether you live in Vermont or not, we live in Oregon, the state will title and/or register your skoolie. If your bus is OVER 15 years old Vermont will issue a "transferable registration" and license plates, but no title. Not to worry, the transferable registration is just as good as a title and if your state issues titles you will get a title when you later register in your home state. If your rig is 15 years old or less you'll get a title as well … and pay $35 more for it.
Vermont charges 6% sales tax on the purchase price of your vehicle and by regulation, no vehicle, even one gifted to you, can be listed as less than $500. Also, if the price you report on the form is too low they may assign the NADA value. We have no idea how this is figured out, perhaps just the judgment of the DMV employee handling the paperwork that day, but we had no problem with the $1,500 purchase price of our 1996 skoolie.
WHAT YOU'LL NEED
Original, previous Certificate of Title assigned to you by all parties listed on the title and any bills of sale necessary to show complete chain of ownership if the title was sold to someone else first (as was our case). All liens must be released.
If you can't show chain of ownership and a title, you'll need a VIN inspection (form VT-010 which can be completed from out of state).
Death Certificate and/or probate papers are required when one or more previous owners are deceased.
Odometer Disclosure Statement (form VT-005) required if:
9 years old or newer
AND
16,000 pounds or LESS registered weight
Filling out the documentation
Go to the Vermont DMV site
SCROLL down then CLICK "FORMS" in the left column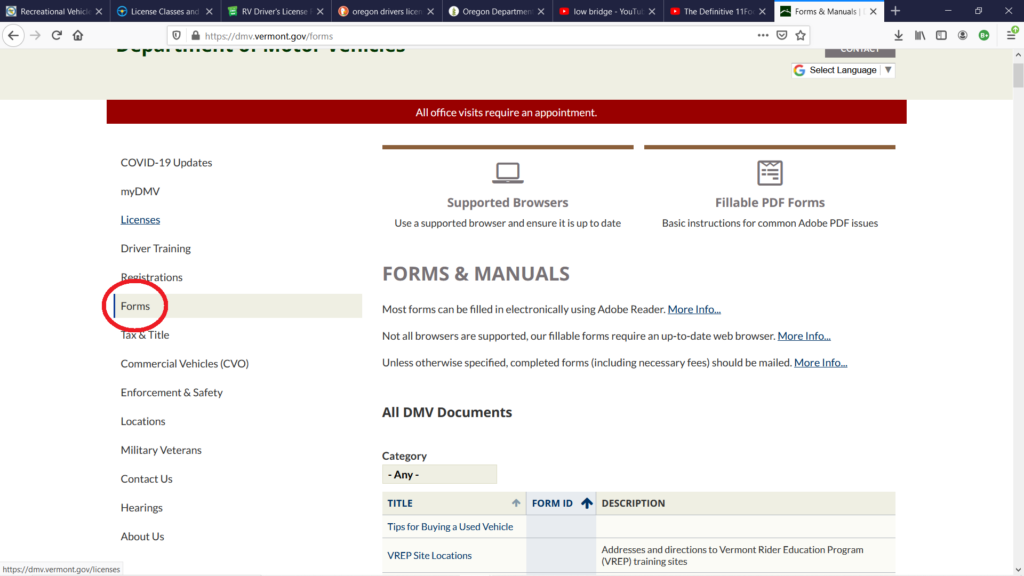 Under "All DMV Documents" CLICK the arrow icon to the right of "Form ID" so that the arrow is bright and arrow in "title" is dim (make sure it points up as well).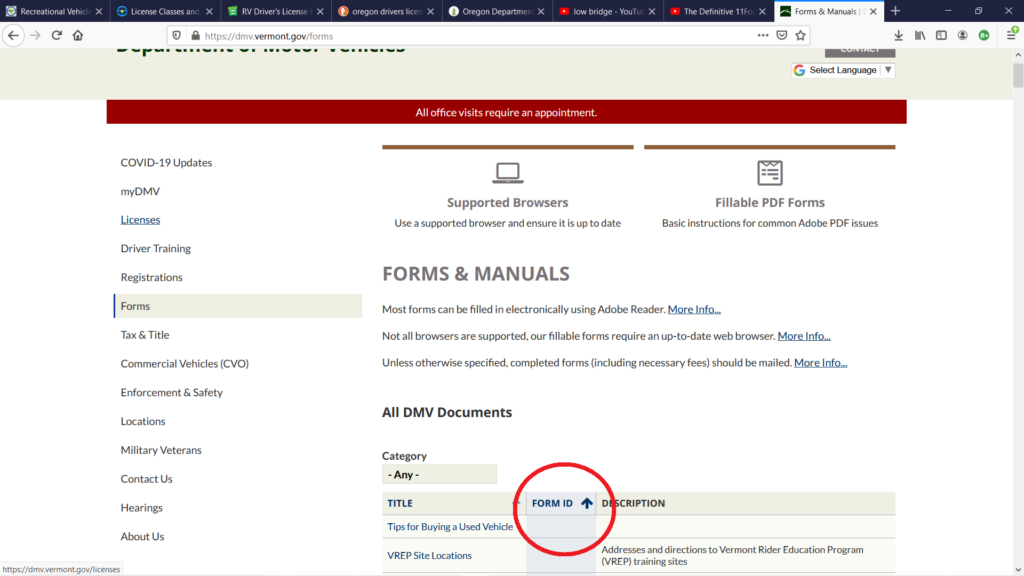 SCROLL down to VD-119 and CLICK on the linked text that says "Registration/Tax/Title Application". A new window should open with the fillable form. If the form does not open, RIGHT CLICK and choose OPEN IN NEW TAB.
If you want, you can return to the FORMS tab and then CLICK on the linked text that says "Registration Application Instructions". A new window should open with the instruction page for the application form. If not, RIGHT CLICK and select OPEN IN NEW TAB
You should now be able to bounce between the Application and the Instructions if you need to.
NOTE: There are A LOT of fields that are going to be blank and some specific fields which MUST be blank. Follow the instructions below and those on the VD-119i carefully.
SECTION 1
Check "OWNED" and enter your valid email

In the "OWNER/LESSEE" portion:
Enter your name and address on both sides even if it's the same and your phone number on the right. We didn't think they were talking about maiden name on that last line on the left and left it blank with no problems.
Gender and date of birth…. I wouldn't mess around on the gender question on the official form. If it's an issue for you then do a bit of research and see what Vermont will accept.

In the "CO-OWNER/LESSOR" portion:
We just wrote "N/A" in the top right block as there isn't one (long story). If you have a spouse or partner in your skoolie this is where you'd fill in all the same info as for "OWNER/LESSOR".

SECTION 2
Check the appropriate box if there is a co-owner/lessor listed in Section 1 otherwise just leave this blank. This section is the "rights of survivorship" and applies when there are two listed owners and one dies.

SECTION 3A
You're not going to have a Lienholder. If you do, you're probably not going to be able to use Vermont as the Lienholder probably won't buy off on it. If you do, you'll need to do a little more research.
SECTION 3B
NAME of the person or company from whom you bought your vehicle, the DATE OF PURCHASE, and their ADDRESS. If you're watching this video it's not likely you bought from a VT dealer but if you did, fill that in as well.
Be sure to get the SIGNATURE of the seller on the VD-119 if you can. If you can't because you bought it a long way from home, you might be able to get by with just the seller's signature on a Title, Bill of Sale, Contract, etc. We had the signature so you're on your own there.

SECTION 4
Check the box for "NEW REGISTRATION"
Then move to the right to the section for "Registration/Plate Type"
Check the box with the blank line and type in "MOTORHOME"
On the blank line next to that type in "19" which is the correct type for a motorhome.

NOTE: the instruction sheet for section 4 indicates a "warranty fee" of $6 but with a note "i".
Note "i" states:
"A motor vehicle warranty fee of $6.00 is imposed on the registration of each new motor vehicle in this state not including trailers, tractors, motorized highway building equipment, road making appliances, snowmobiles, motorcycles, mopeds, or truck with a gross vehicle weight over 12,000 pounds."

VT-119i, section 4
"Motorhome" is a "body type" that is built on a "Truck", "TRK". HOWEVER, we don't need to fill out the "TRUCK" section between section 5 & 6 on the application.
Don't ask me why, the only answer I have is that it's the "gooberment"
SECTION 5
MAKE, MODEL, MODEL YEAR you should be able to get from your current title, bill of sale, or even just the VIN.
BODY TYPE this is where you're going to convert from BUS "BU" to MOTORHOME "MH" so type in "MH"
COLOR is probably yellow but ours was white and you may have painted yours already
Enter the MILEAGE without the 10ths and be sure to check the correct box for "Miles", "Km", or "Hours"
SERIAL NUMBER is your VIN number
Enter the number of cylinders in the engine then CHECK "USED" and then CHECK the correct fuel type.

Skip down to SECTION 6 do NOT put anything in the TRUCKS section.
SECTION 6
Enter your purchase price and any trade-in on the left side then move to the right side. Don't put anything else in that left side column!!!
SECTION 7 Skip over section 7.
SECTION 9
On the right side column fill in the appropriate fees and total them. We put in $76 for registration, $90 for tax ($1,500 * .06), and $6 for "warranty" (we hadn't seen the note discussed above) but when we got our document back they had whited out the $6 under warranty and changed the tax to $96. We're not sure how that was calculated and we're not complaining but when was the last time you saw a government agency fix your paperwork for you and process it without some sort of hassle?

SECTION 8
After you print the form, you'll sign and date (and any co-owner will also sign) and the VD-119 is done.

SOME ADDITIONAL NOTES:
If your bus is OVER 9 years old OR has a registered weight of OVER 16,000 pounds, the odometer form isn't required. The second paragraph of the odometer disclosure form states:
"An Odometer Disclosure Statement must be submitted for vehicles that are nine (9) years old and newer, self-propelled and with a registered weight of 16,000 lbs or less."

Vt-005, pg 2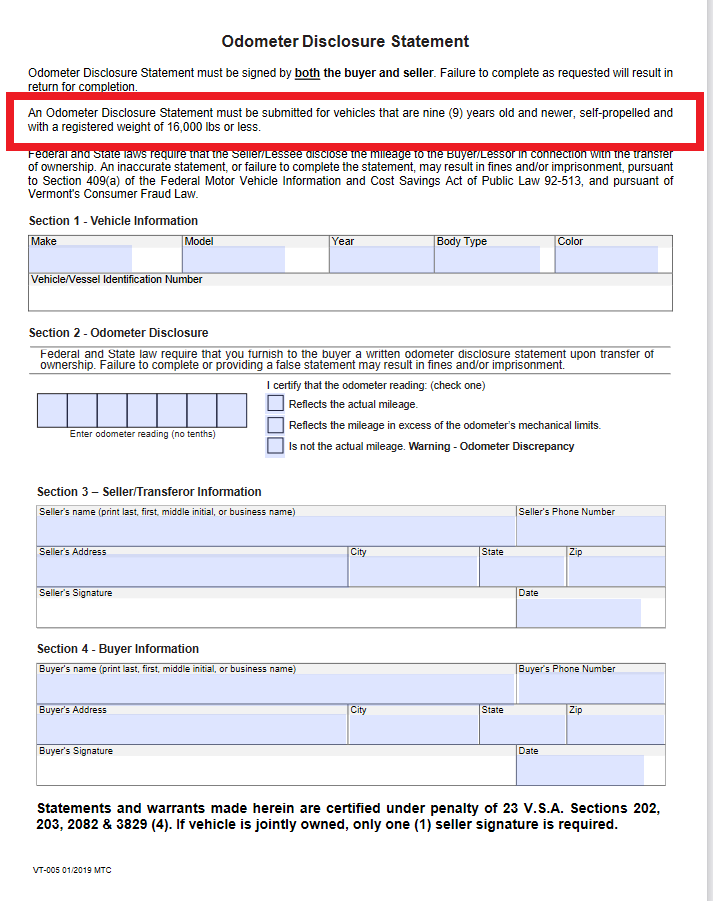 We didn't realize this until after our package had been sent out so we filled out and included the entire form with our package. Again, it didn't cause any issues or delays so you decide whether you want to include one or just state on your cover letter that you didn't because your skoolie is over 9 years old or is over 16,000 pounds (or both). If we were to do it again, I think we'd fill it out and send it in if we had access to the seller (for their signature) or explain in the cover letter how we were over 9 years or 16,000 pounds if we didn't have access to the seller for signature.
In case you are submitting the Odometer Disclosure form here are the fields we filled in:
Sellers Name
Year – Make – Model –
Because we were changing from BU to MH we left the "Body/Hull Type" box blank
Color – Length in feet and inches
The VIN – Odometer reading without tenths – Checked the box for "Miles"
YOUR NAME as the New Owner
The date you bought it, and how you much paid
Check NO for emissions waivers … hopefully you didn't have and fail one where it was registered.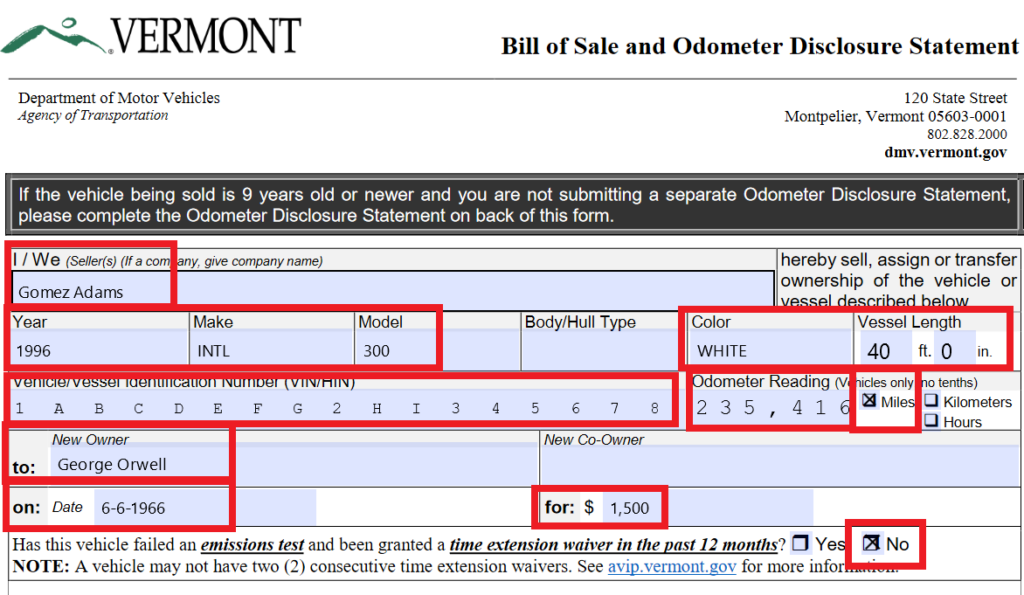 After you print out the form don't forget to sign and date the form as Purchaser below the salvage statement.
Fill in the Sellers information:
Date – Address – Town – State – Zip – and Sellers phone number and their Email
After you print the form, be sure to get the seller's signature.
We didn't include a VIN inspection form (VT-010) and from what we read from others who have gone through this process it's not necessary even though it sure sounds like it is when you read the Vermont DMV site. We're not sure if submitting a title and complete chain of ownership documents is sufficient, it's because we weren't getting a Vermont Title (over 15 years old), or you know…..COVID.
COVER LETTER
You want to write a cover letter explaining everything that's in your package. List every document inside including the check itself and its amount along with a breakdown of each fee you are paying and its amount.
Be sure to include your contact information (phone and email) and mailing address on the cover letter along with the VIN of your skoolie just in case things get separated.
We've included a copy of the letter we used immediately following the web resources list. The names have been changed to protect the not yet charged.
MAIL IT OFF
Once you have everything together, arrange the documents in the order listed in the letter except for the check. Paperclip the documents together with the cover letter on top, sliding the check under the clip. Place the packet into a large envelope for two reasons, first so that everything can lays flat and second so that it does not get lost in the mail/someone's desk.
Your packet will require more postage than a single stamp due to both weight and size. You may also choose to send the envelope CERTIFIED and request a RETURN RECEIPT as we did. The cost was less than $10 including the postage for a little added peace of mind.
Mail your package to:
Vermont Department of Motor Vehicles
120 State Street
Montpelier, VT 05603-0001
We received our plates about 6 weeks later. The Transferable Registration and annual sticker for the plate arrived about 2 weeks after that. All told, it was about 7 weeks after they received the paperwork
Hope this helps someone out there. It's such a relief to have the Motorhome designation sorted out as it was a source of major concern to us. But no longer! GOOD LUCK, B & S
RESOURCES
VT DMV Bill of Sale and Odometer disclosure
VT DMV form for Registration Tax & Title Application
VT DMV Registration Tax & Title Application INSTRUCTIONS
OUR COVER LETTER WITH NAMES CHANGED